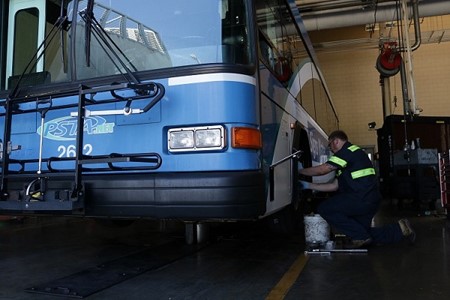 NOW HIRING – 4 DAY WORK WEEK, 40 HOURS GUARANTEED, PAID TIME OFF
BONUSES FOR ASE CERTIFICATIONS
PSTA's Mechanics work in a clean, modern garage, with state-of-the-art technology. They enjoy great benefits including paid vacations and holidays, an on-site gym, insurance benefits, and a pension. Our Mechanics receive continual training and growth opportunities.
Our Mechanics are vital to our mission to provide safe, affordable transportation throughout Pinellas County. They perform routine to complex maintenance tasks on our fleet of diesel and hybrid buses and staff cars, and ensure that all vehicles are in top working condition.
Fleet Technician I or II designation will be offered to the selected candidate based on the minimum qualifications listed below. Complexity of work assigned progressively increases from level I to II.
Essential Functions
Performs routine and periodic preventive maintenance inspections on vehicles and equipment. Conducts vehicle safety inspections, quality control inspections and replaces defective parts and components.
Performs repairs on diesel, hybrid, and battery electric buses.
Inspects, diagnoses, repairs, overhauls and installs electrical systems, fuel systems, hydraulic systems, cooling systems, suspension systems, steering systems, brake systems, ignition, emission, and pneumatic, mechanical and related vehicle computerized systems.
Troubleshoots, repairs, rebuilds and performs preventive maintenance on major bus components including engines, transmissions, fuels systems, differentials, air conditioning systems, compressors, wheelchair lifts/ramps, high-voltage systems, multiplex electrical systems, electronics, battery electric propulsion systems and various electrical parts.
Replaces a variety of interior and exterior body parts, including bumpers, glass, window systems, door systems, wheelchair ramps, fare boxes, bicycle racks and body panels, bus flooring, seating systems, and ADA related passenger related amenities. Repairs and paints both internal and exterior body panels.
Performs bus exchanges and road calls. Performs repairs on vehicles in the field, as required.
Completes vehicle service requests, lists work performed on work order forms both on paper and electronic systems, and indicates additional repairs, as needed.
Maintains paper and electronic records of maintenance repairs performed.
Performs cutting and welding. Fabricates and installs a variety of parts and equipment.
Follows applicable safety rules and regulations.
Performs other related duties, as assigned.
Minimum Qualifications
FLEET TECHNICIAN I
Education: High School diploma or equivalent.
Experience: Entry level work experience for one (1) year performing maintenance and repair of vehicles and/or equipment. Enrollment or completion of college level or vocational school coursework in automotive or diesel technology or a closely related field may substitute for one year of the required work experience.
License: Possession of a valid Florida driver license and be able to obtain a class B commercial driver license with air brake and passenger endorsement within a two (2) month period. No serious traffic violations or suspension of driver's license, and no DUI's for the previous seven years. No more than seven points in the previous four years.
FLEET TECHNICIAN II
Education: High School diploma or equivalent. Completion of one (1) or more of the following:
· An Associate's degree of college level or vocational school coursework in automotive or diesel technology or a closely related field.
· Certificate of completion from a vocation technical secondary school in automotive technology, diesel technology or closely related field.
· Successful certificate of completion from a transit technical maintenance training program.
· Can substitute four (4) years of related experience for one of the above three items
Experience: Two (2) years of recent work experience performing mechanical maintenance and intermediate level repair of buses, trucks, and heavy duty vehicles and equipment. One (1) year of recent diagnostic experience with hybrid and electrical propulsion system is desirable.
License and Certification: Possession of:
· A valid class B commercial driver license with passenger and airbrake endorsements. No serious traffic violations or suspension of driver's license, and no DUI's for the previous seven years. No more than seven points in the previous four years.
· 608 Type II and 609 A/C Technician Certification.
· Certifications from Cummins Engine, Allison Transmission & Voith Transmission are preferred.
KNOWLEDGE, SKILLS AND ABILITIES (all levels)
Knowledge of:
· Basic procedures and equipment used in the maintenance and repair of automotive and/or heavy duty engines.
· Principles of automotive electrical systems and other related vehicle systems.
· Vehicle mechanical, electrical, hydraulic and pneumatic systems.
· Computerized diagnostic equipment including hand held and windows-based software.
· Safety practices and procedures used in the operation of power tools and equipment.
· Methods and procedures for safe handling and disposing of hazardous waste.
· Effective communication techniques.

Ability to:
· Diagnose, repair and troubleshoot a variety of complex mechanical problems.
· Select and operate appropriate hand and power tools and electrical and pneumatic tools and equipment.
· Read, comprehend and use maintenance instructions, repair manuals, parts books and area maps.
· Read, interpret and use technical service manuals, wiring diagrams and various bus schematics for all components.
· Complete forms and maintain accurate records.
· Perform mathematical calculations.
· Follow written and oral instructions.
· Work independently.
· Implement new mechanical techniques and procedures.
· Meet competing deadlines.
· Provide effective customer service.
· Establish and maintain effective and cooperative working relationships with other employees and the general public.
Skilled in:
· Reading, writing, and communicating at an appropriate level.
· Basic mathematics.
· Reading wiring diagrams and schematics.
· Using a personal computer and applicable software applications.
PHYSICAL DEMANDS (all levels)
Standing: 6-8 hours/day for sustained periods of time on concrete, asphalt or grassy areas/gravel on side of road.
Sitting/Driving: 1-2 hours/day or more on constant bases. Seat belt properly secured on required vehicles.
Walking, kneeling, crouching & Crawling: 6-8 hours/day on asphalt, concrete or grassy areas/gravel on side of road.
Physical Effort (Exerting weight or force to lift/pull/or move objects): Light work exertion 0-20lbs of force is 4 ½-6 hours, medium work exertion 20-50lbs of force 4½-6 hours, heavy work exertion 50-100lbs. 1-2 hours. Supportive equipment is available. Both sedentary and very heavy work is rare.
Perform Preventive Maintenance/inspection, Inspect and repair brake, engine, suspension & steering components, inspect and repair lighting systems, remove and replace vehicle accessories (wiper blades, mirrors, etc) very frequent 4 ½ -6hrs per 8hr day, remove and replace air conditioning components, frequent 2 ½-4hrs per 8hr day.
Operating vehicle lifts and jacks, use hand and air tool, operate test equipment, test and operate vehicle 4 ½-6hrs per 8hr. day, operate brake lathe 2 ½-4hrs per 8hr.day
Pushing, Climbing, Stooping: Occasionally required from 1-2 hours/day (Requiring lower extremities, back muscles and equilibrium).
Balancing: Constant, and involve maintaining body equilibrium prevent falling when walking standing, etc 6½ or more per 8hr/ day.
Hand Coordination: Activity picking, pinching, typing or working with fingers constant 6½ or more per 8 hour/day.
Repetitive Motion/Grasping/Feeling: 6½ or more per 8hours/day and involve constant activity. Ability to move fingers, hands, and wrist. Apply pressure to object with fingers and palm and touch for size, shape, temperature or texture.
Twisting/Turning: Occasional twisting at waist and neck required up to 1-2 hours/day
Reaching: Frequent activity required with hands, knees, and feet
Speech/Signaling: Speaks clearly and distinctly to convey information to others.
Vision: Color determination ability required far acuity with clear vision at 20 feet and close vision is required at 20 inches. Peripheral vision and depth perception is required, (constant more than 2/3 of the day)
Talking and Hearing: 6½ or more per 8 hour/day: Ability to receive information aurally and/or to make discriminations in sound by ear.
ENVIRONMENTAL CONDITIONS (all levels)
Noise/Vibration: Exposed to constant more than 2/3 of the day or intermittent noise levels above the ambient noise level. Occasional vibration, oscillation, movements of the extremities or whole body
Extreme Heat: If the employee subject to temperatures at or above 100degree for periods of 1 hour or more; Occasional - up to 1/3 of the day
Hazards: Temperature changes from weather conditions, injury exposures or potential injuries and exposure to atmospheric conditions as dust, fumes, vapors, or mist that could affect the occupational health of the employee (more than 2/3 of the day).
SUPPORTIVE EQUIPMENT (all levels)
Protective shoes: Steel toe safety shoes, mandatory.
Respiratory Protection: None required.
Hand Protection: None required, optional.
Driving: Seat Belts are required.
Back: Back Support: optional
Eye Protection: Safety Glasses for grinding, steam room and/or any potential eye damage is mandatory.
PSTA offers great training and career development opportunities. Learn more here: PSTA Professional Development
PSTA is an Equal Employment Opportunity Employer M/F/D/V. We are committed to equal employment opportunity to all qualified persons, without regard to race, color, religion, creed, ancestry, national origin, age, gender, gender identity or expression, marital status, disability, or other protected status, as established by Federal or State laws.
PSTA complies with the Americans with Disabilities Act (ADA), to provide reasonable accommodations for persons with disabilities. If you have a disability that requires accommodation during the application or interview process, please call Human Resources at 727-540-1854.
PSTA is a Drug-Free/Smoke-Free Workplace.
Veterans' Preference – Certain servicemembers and veterans, and the spouses and family members of such servicemembers and veterans, receive preference and priority, and certain servicemembers may be eligible to receive waivers for postsecondary educational requirements in employment by PSTA, and are encouraged to apply for the positions being filled.